Company Stamp/Common Seal
 
A Company Seal is sometime call a Common Seal. It is make up of two metal plates. One plate with the printed content is projected outwards while the other is caved in. When it is used, an embossment or impression of the seal would be left on the document.
It is use for stamping on any legal company document or agreement such as legal contract, share certificate, and any other legal documentation. It work with a sticker which comes with 10 stickers in one pack and have a choice of gold, silver and red colours.
Singapore common seal $ 58 (3 working days after artwork has been confirmed and finalized)
Express Common Seal: 1 Day Express – S$88 (1 Day after Artwork Confirmation and order before 2pm, collect common seal after 4:30pm in next working day), Same Day Express – S$118 (Order before 11am and collect it at 4.30pm on the same day.)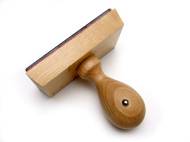 Rubber Stamp
   A rubber stamp is a common company stamp. It make of rubber and usually caved with your company name, address, telephone, fax and email. It is use for formal company document. It require to work with an ink pad, which comes with red, blue and black colours.
Available dimensions for rectangle rubber stamps are 55mm x 13mm, 55mm x 17mm, 55mm x 32mm, 67mm x 28mm. Available dimensions for round rubber stamp are
Turnaround time for making the stamp is 1 working day upon artwork info and confirmation given.
Self-ink Stamp
A Self-inking stamp is also a rubber stamp but it do not require any ink pad. It can provide its own ink, hence it is very convenient for traveling businessmen.
We provide services in making all the above stamps and seal at competitive pricing. Delivery service is available if the customer do not have time to pick it up personally. Please do not hesitate to call us for any stamp/seal requirement if you have any.
Business Card Printing
One of the common ways of engaging business is via business card exchange. A well-designed business card will impress your client and make him remember your business as well as company name.
We offer quality business card printing services as well. The card use at least is 250g/m2 thickness minimum, and we provide artwork design for your company (except company logo) with very competitive pricing. Card printing is at $15 per 100 pieces, and minimum single order shall be minimum of 200 pieces. The delivery charges will be waived if order exceed $60 in a single transaction.
The turnaround time will take 1-2 business days upon artwork is confirmed and your payment is received.