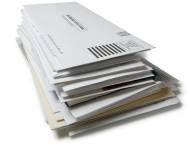 Mail forwarding is an additional services on top of register address service. It is to provide convenience to our busy client who is unable to collect the physical mail send to the company's register address. It will be done once a week (on every Thursday) to forward all the physical mail receive to one local address provide by the client.
Register Address service
Mail forwarding service to one local address
Monthly Mail forwarding *($60 deposit is required upon register)
Charge per mail forward is $1
Minimum service subscription is 12 months
*Mail forwarding cost shall bear by client and it will direct deduct from the deposit. Client will require to top up once the deposit run low.